Planning for a convention in Los Angeles is an exciting endeavor. The thrill of showcasing your business, the anticipation of networking opportunities, and the buzz of the city itself form an intoxicating mix. But amidst all this excitement, there's an unsung hero of the convention world that often gets overlooked – your printing requirements. From brochures to flyers and essential documentation, having a reliable printer at your disposal can be a game-changer. Fortunately, Marathon Services, the leading printer and copier rental service in Los Angeles, has you covered.
The Marathon Difference: Unrivaled Convenience
Marathon Services understands that when orchestrating a convention booth, your attention should be focused on nurturing leads and promoting your brand, not worrying about printing logistics. That's why we've made it our mission to offer an unparalleled printer rental service that is as easy and convenient as possible.
Our rental agreements are crafted with your specific needs in mind. Perhaps you need a printer for a short event of a few days or for an extended convention that lasts several weeks. With Marathon Services, you can choose your rental period, from one week to one month, and we ensure you only pay for what you use. If you use the printer for less than the planned duration, you're charged for the minimum period. If your needs exceed that, your final cost is prorated, making our service both flexible and cost-effective.
But our commitment to convenience extends far beyond flexible rental periods. Every printer rental from Marathon Services comes with a comprehensive service package. This includes maintenance, supplies (excluding paper and staples), and even free training on all rented units. Plus, all our printers include print and scanning capabilities at no extra charge, making us a true one-stop solution for all your convention printing needs.
Speed and Reliability: We've Got You Covered
Marathon Services stands head and shoulders above the competition due to our steadfast dedication to prompt and efficient service. When you partner with us, you're guaranteed a response from our seasoned technicians immediately after placing a call. Thanks to the wonders of digital copier technology, many issues can be fixed remotely, saving you valuable time.
On the off chance that an in-person service visit is necessary, rest assured that our team will be there in just 2-3 hours. And if we fail to meet that commitment, we put our money where our mouth is. Marathon Services will pay you $25 for every hour we're late, upholding our promise of exceptional customer service.
Even in the rare event of a complete equipment breakdown, we've got your back. We understand that time-sensitive projects can't wait. To ensure you meet your critical deadlines, Marathon Services will help offset external copying/printing costs once approved by our office.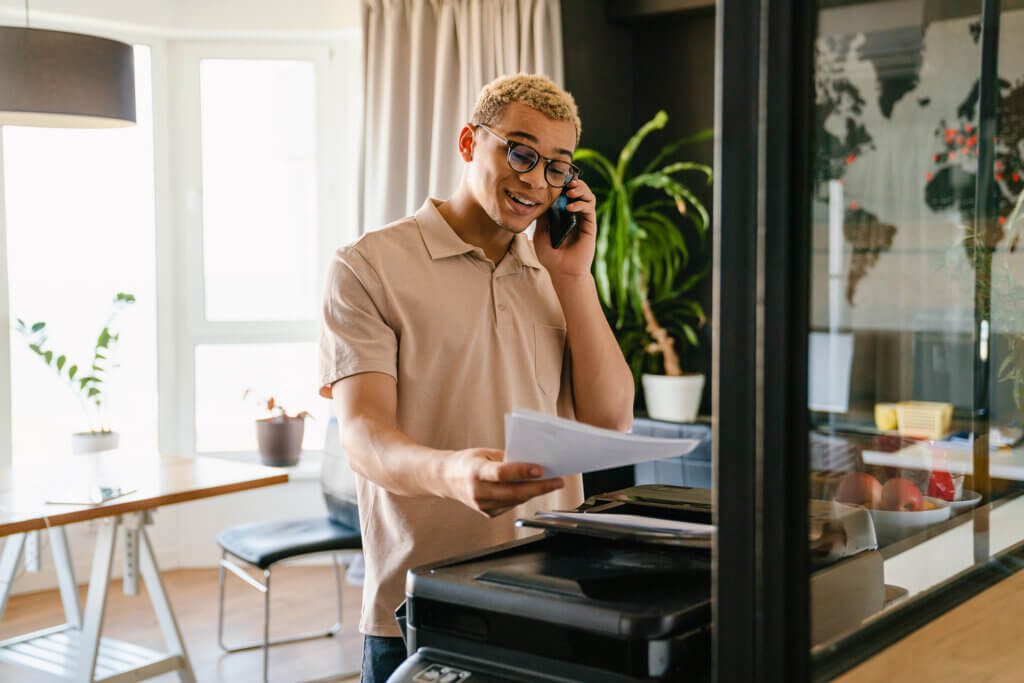 A Diverse Inventory to Meet All Your Needs
No matter the scale or nature of your convention needs, Marathon Services is equipped to handle them. Our vast inventory of Konica Minolta printers and copiers in Los Angeles allows us to cater to any demand. Our ability to offer such a diverse range of high-quality equipment means you're never left wanting.
What's more, our services are designed to evolve with your needs. If your print usage exceeds your initial estimation, no problem – you can upgrade your equipment. Marathon Services is committed to ensuring that our service is always tailored to your changing needs, making us the ideal partner for your conventions.
A Legacy of Trust and Satisfaction
Since 1979, Marathon Services has been a trusted provider of printer and copier rental services in Southern California. Serving an array of industries from entertainment to finance, legal to government, we've honed our services to deliver quality, convenience, and satisfaction to all our clients.
We're confident in our ability to deliver unparalleled service. So much so, we offer a no-risk guarantee. If you're not entirely satisfied with our service within the first six months, we'll shoulder all costs to transfer your equipment to a service contract with the provider of your choice.
Connect with Marathon Services Today
When it comes to conventions, you need a reliable partner that guarantees convenience, speed, and flexibility in handling your printing needs. Marathon Services ticks all these boxes and more. So why wait? Get in touch today and make your next Los Angeles convention a success with Marathon Services, your trusted partner in printer rentals. With Marathon Services at your side, you can focus on what truly matters – making your convention experience a resounding success.